Does Gold Bond Have Talc? Yes…And More Explanation
Yes, the old versions of Gold Bond Powder had talc in them. But nowadays, Gold Bond has started to offer body powders that are talc-free.
In the past, it is true that talc was the main ingredient for the brand's body powders, but with all the controversies surrounding talc, Gold Bond has now shifted to using non-talc alternatives instead.
Their new body powder formulas are now cornstarch-based instead of talc.
To make sure that you're buying their talc-free body powders, read the front of the bottle carefully. There should be a label there somewhere saying "talc-free", as you can see in the image below: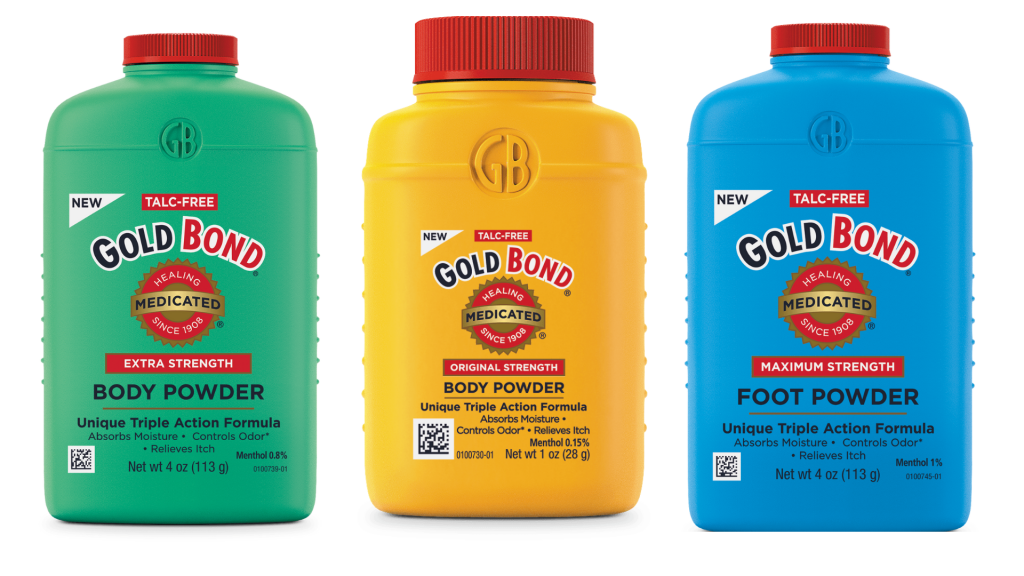 If you don't see the same label, then you're probably buying the old versions of the Gold Bond Body Powder, which contain talc.
Aside from the label in the front, you should also take a look at the ingredient label at the back of the bottle.
You should not see any mention of talc there. Under "Inactive Ingredients", you should instead see "zea mays (corn) starch", as in the image below (highlighted in yellow):
If you have concerns about using talc on your body, then definitely take the time to look for another store so that you can buy the new talc-free Gold Bond body powders.
Where to Buy Gold Bond Body Powder that's Talc-Free?
With how popular Gold Bond is, it should be readily available in most (if not all) retail stores. On the other hand, if you're looking to buy online, then Amazon would be the obvious choice.
Go to Gold Bond's Official Amazon Store where you can easily find the new talc-free body powders they're offering. You can also try buying from them directly through their official website.
You'll notice on their website that you can't even find their old body powders which contain talc so it's obvious that they are really trying to push the new versions of their body powders which are talc-free.
Why the Shift from Talc to Cornstarch-based Body Powder?
Well, I'm sure you already know, but to refresh your mind, there has been a lot of controversy surrounding talc.
Talc has been a major ingredient of Johnson & Johnson's baby powder.
If you didn't know, there have been more than 6,600 baby powder lawsuits filed against the brand, mostly related to women who have been diagnosed with ovarian cancer. The general claim is that they got cancer from years of talc use down there.
Because of all the controversy, the simple fact is that over the past several years there has been a massive, massive shift in the marketplace away from talc.
Consumers are concerned about the possible health effects of using talc long-term on their bodies.
There have been some conflicting studies that have purported to show a link between talc usage and a higher chance of contracting cancer. If you want to learn more about this, check out my article here.
Given the above reasons, Gold Bond has followed along and come up with their new body powder formulas that are cornstarch-based instead, so that people won't have to worry about all the health concerns related to talc-use.
Cosmetic-grade vs Industrial-grade Talc: Difference
The difference between cosmetic-grade talc and industrial-grade (non-cosmetic) talc can be significant, as evidenced by a recent study conducted by The National Toxicology Program (NTP).
The study found that some types of non-cosmetic-grade talc contained potentially toxic levels of asbestos; however, the same study also found no asbestos was present in Gold Bond products.
While it's unclear whether there is any risk associated with the use of cosmetic-grade talc, The FDA does regulate cosmetic and personal care products to ensure they are safe for consumers to use.
Therefore, Gold Bond manufactures its body powders using cosmetic-grade talc that meets FDA standards for purity.
A third-party lab tests all incoming shipments of talc lab to confirm they comply with FDA specifications and contain no asbestos fibers.
The Gold Bond Quality Assurance team reviewed the lab testing results and kept them on file and other documentation concerning the quality control they follow throughout their manufacturing process.
And there's no doubt that Gold Bond has been providing consumers with comfort, soothing relief, and skin care for generations. There also has been no evidence linking any of the ingredients in Gold Bond products to any health-related issues.
Additionally, the U.S. Food and Drug Administration (FDA) has reviewed Gold Bond products several times and found them safe and effective when used as directed on the label.
Choosing the Right Gold Bond Powder
So when considering using Gold Bond products, consumers should remain calm and know that these products have been around for years without any known health risks or issues.
But, it's still best to follow the instructions when using these products to avoid irritation caused by the talc ingredient.
And before you get too alarmed, keep in mind that talc is commonly used in numerous everyday products ranging from food to even some pharmaceuticals.
Therefore, it's not the use of the ingredient alone that can cause issues for consumers.
Summary
Going back to the original question: Does Gold Bond Powder have Talc?
Yes, the old versions of the Gold Bond Body Powders used to have talc as their main ingredients.
But due to all the controversies surrounding this ingredient, Gold Bond has come up with new formulas that are cornstarch-based so you no longer have to worry about your health when using body powder.
To make sure you're buying the versions that are talc-free, make sure to read the label at the front, and also the ingredients at the back.
With the popularity of Gold Bond, these should be readily available in most (if not all) retail stores, as well as online through Amazon or direct from their official website.