Everymanjack Beard Butter Vs Balm
When it comes to Men Fashion, Beard plays an important role.
We cannot run from the fact that a man is incomplete without a beard.
It makes a strong impact on your personality. Having a good volume and perfectly shaped beard is every boy's dream and having it naturally is truly a blessing of god. In a day to day life, almost every person gets annoyed by beard flakes and flyways and wants to get rid of them. For that purpose, many companies sell wax, beard butter, oil, balm, etc. but most of them contain harmful chemicals, Unlike them EVERY MAN JACK is a Big Box Company made in the USA that provides harmless and skin-friendly Products which can be applied on almost every type of skin and their packaging bottles are made with 50 percent post-consumer recycled plastic contributing in saving the environment. . .
So, Here we have a comparison between two of its products namely Beard Butter and Beard Balm to find out which is better and which should you use.
BEARD BUTTER
Starting with this, It comes in three amazing scents.
Sandalwood, Sea salt and natural hemp.
Sandalwood and natural hemp come with cocoa butter while sea salt has coconut oil in it. It Hydrates, Rejuvenates and Styles the beard, Cocoa butter helps to relieve itch and deeply hydrates and soothes dry beard. Wheat protein helps curb runaway hairs. Sandalwood with a hint of vanilla will refresh your mood. Most of the beard butter of other companies has sandalwood scents that have something mixed with it but this has a pure perfect fragrance. They are made with most of their ingredients plant-based, so no harmful chemicals. It contains shea butter whose rich oils get soaked inside the skin to seal the moisture. Panthenol makes hair more flexible and elastic. Many people claim to get shiny beards after using them.
Their ingredients include – WATER (AQUA), CETYL ALCOHOL, STEARYL ALCOHOL, BUTYROSPERMUM PARKII (SHEA) BUTTER, CAPRYLIC/CAPRIC TRIGLYCERIDE, COCOS NUCIFERA (COCONUT) OIL, GLYCERIN, GLYCERYL DILAURATE, CETEARETH- 20, CETYL ESTERS, CANNABIS SATIVA (HEMP) SEED OIL, THEOBROMA CACAO (COCOA) SEED BUTTER, HYDROLYZED SOY PROTEIN, BENZYL ALCOHOL, CETRIMONIUM CHLORIDE, PANTHENOL, TOCOPHERYL ACETATE, DEHYDROACETIC ACID, LIMONENE-D, LINALOOL, FRAGRANCE (PARFUM).
It acts like a leave-in conditioner and looks kind of like a lotion and being Nongreasy with an easy-to-use specialty makes it a top priority among consumers. It is awesome for beard frizz. The only thing stopping you from buying and using it is if in case you have a nut allergy. Beard butter has no phthalates, no parabens and absolutely no wax at all, which is a good plus point for everyday usage. If you want a pliable natural and less oily look, it's not going to let you down. Now we are going to talk about the balm.
BEARD BALM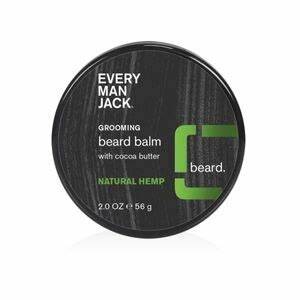 Talking about beard balm, Again it also comes
in three awesome scents namely shea butter, sandalwood and natural hemp. It can be used perfectly for all shapes, sizes, and quality of beards. It moisturizes, strengthens and styles your beard in your very unique ways. Be it any part of the body, proper nutrition is demanded by all in order to give fresh damage free smooth look, so they contain jojoba oil which protects skin and hair and provides super long-lasting hydration. The sunflower seed oil high in antioxidants vitamins E and A makes the skin retain moisture. They are gluten-free and consist of natural ingredients mostly.
They have the following ingredients – BUTYROSPERMUM PARKII (SHEA) BUTTER, CERA ALBA (BEESWAX), COCOS NUCIFERA (COCONUT) OIL, CETYL ALCOHOL, LANOLIN WAX, CARTHAMUS TINCTORIUS (SAFFLOWER) SEED OIL, STEARYL ALCOHOL, CAPRYLIC/CAPRIC TRIGLYCERIDE, FRAGRANCE (PARFUM), SIMMONDSIA CHINENSIS (JOJOBA) SEED OIL, SILICA, CANNABIS SATIVA (HEMP) SEED OIL, THEOBROMA CACAO (COCOA) SEED BUTTER, HELIANTHUS ANNUUS (SUNFLOWER) SEED EXTRACT, MELALEUCA ALTERNIFOLIA (TEA TREE) LEAF OIL, ORYZA SATIVA (RICE) BRAN EXTRACT, ROSMARINUS OFFICINALIS (ROSEMARY) LEAF EXTRACT, TOCOPHEROL, TOCOPHERYL ACETATE, LIMONENE-D, LINALOOL
Since they are thick, the primary purpose of a balm is to hold the beard in shape, hydrate it, style it plus make it uniform. The form factor and shaping that comes from beeswax are very desirable.
Use a dime-sized amount in dry hair as desired. It is perfect for styling a long beard and mustache.
It provides a good texture and a sweet scent as well. Although it does not last as much as butter many choose balm over butter for its holding and shape-giving feature.
They are absolutely cruelty-free and never tested on animals as claimed by the company and totally vegan friendly to reach out to more people. . .
But a question that still persists is which of them has more benefit and should be used or in simple words, 'Which is Better'?
The answer lies in what is your requirement
As the beard balm contains wax so it should not be used on daily basis, on the other hand, beard butter does not contain wax at all making it fit for everyday use without any worries and as mentioned above butter last more than balm. There is beard oil also an option but it becomes useless for long beards. A few people claimed to have pimples as a side effect of using the balm.
In the case Every man jack company, it is a trusted brand and they make all products to be easy on delicate skin. They also have this policy which should be mentioned that for every product which is purchased, they will plant a tree to fight the increasing amount of carbon emissions leading to global warming and climate change. Generally, most people enjoy using beard butter more than balm. Both come at the approx same price. So, Honestly, beard butter has the upper hand in most cases but if want to know my opinion, I will recommend you use both to get a better professional look.
That was all about beard butter vs beard balm, I hope this article gave you enough satisfactory detail about both products and their benefits.