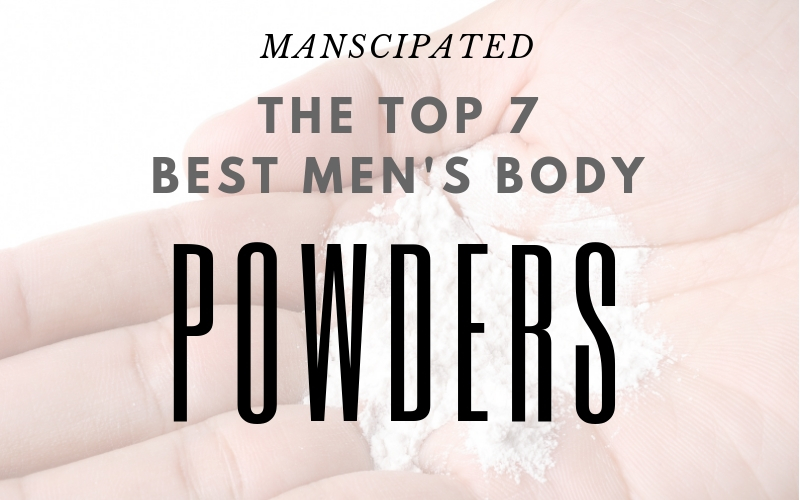 It's 2021 and there are a lot more options out on men's body powders in the market. But more options don't necessarily mean better options.
In this article, I will compare some of the best men's body powders in 2021, as well as write a quick summary of what you want to look for in a good body powder.
Let's get down right to it.
All 7 of these I consider as the best men's body powders and each has its own merits, but there are 2 that clearly stand head and shoulders above the rest. They are:
Fromonda Mint Talc Free Body Powder – I'm partial to both Fromonda and Chassis Man Care, but the biggest advantage of these Fromonda body powders is that they are all-natural, non-talc, and come in a bunch of different scents.

Chassis Premium Body Powder – If someone walked up and to me and asked me to pick one, just ONE body powder for men, it would be this. The applicator nozzle is the best I have used, there's a good amount of product inside and it works pretty well. It just works.

What Makes A Good Body Powder?
As a man, using body powder is going to be a lot more helpful in:
Mitigating and preventing bad body odors
Mitigating and preventing sweat
Mitigating and preventing skin chafing and irritation
And while deodorant is only going to cover the sweat and odor coming from your pits, a good body powder will help out in other areas, such as:
your feet
your pubic region and buttocks
in between the legs
your lower back
can be used as a substitute for deodorant for your armpits
So, why shouldn't you just slap on any ole body powder from your local grocery store?
​Men's body powders have a huge range in the strength of their scent, as well as the type of scent itself
Men's body powders have a huge range in how long they last
Men's body powders have quite a different bang for your buck in terms of price
Men's body powders can also be broken down by whether they are talc or non-talc
For a bit more in-depth analysis on the best men's body powders and to read more, scroll down past my short reviews of each powder.
Fromonda Mint Talc Free Body Powder is simply amazing. I literally have nothing but good things to say about it.
With talc receiving a bit of negative press recently, I decided to move to non-talc body powders (you can read more about this in our article Is Talc Safe?) just to be totally on the safe side.
And Fromonda Woody Talc Free Body Powder is easily the best of the non-talc bunch.  
This body powder is made up of cornstarch, arrowroot powder, cedarwood oil and cypress, juniper, rosewood and tea tree oil with a hint of baking soda thrown in.
It's also made entirely in the good ole USA with no animal testing done (always a benefit in my book). ​
And, if you don't like the "woodiness" of the Woody scent, you've got a lot more options, such as:
Citrus IPA scent (a light and fruity scent)
Atonement (menthol and mint)
Unscented
This is a HUGE benefit for me, as a lot of times I will like everything about a body powder, except the scent.
That's not everything, though. Each bottle comes with 142g of product. And while that is not as much as say, all Gold Bond Ultimate Comfort, that is still a bit more than average. Always a plus!
This is clearly the #1 pick in my opinion. 
Pros
Effective body powder that lasts a long time
Non-talc
3 different scents, 1 unscented
All-natural product
Extremely good consumer reviews
Good for the price, inexpensive
Cons
Not quite as effective (in absorbing moisture) as a talc
I know what you're thinking…the name. Ora's Amazing Herbal Body Powder.
But trust me. This stuff rocks! ​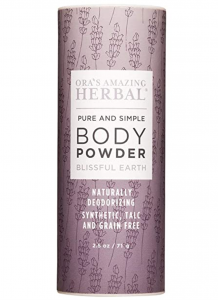 Like Fromonda Body Powder, it's also a non-talc. But this body powder, unlike the Fromonda powders, is made up of mostly karolin clay powder, with a touch of arrowroot and plantain leaf powder thrown in.
This body powder only has 4 ingredients. Four! If you ever suffer from chafing, or bad skin reactions to any type of body powder, this is definitely the best of the bunch. ​
In terms of what you can actually notice, there isn't much difference in karolin and cornstarch powder. They both feel the same. Cornstarch feels a little more "gritty" to me but that's basically it. With respect to effectiveness against moisture and bad odor, they perform about the same, with cornstarch performing only slightly better.
Also like the Fromonda products, Ora's Amazing uses no animal testing on their products.
In terms of scents, there are two versions:
Blissful Earth (light and a bit flowery)
Unscented
Sure, the scent is not exactly as "masculine" as the Fromonda products, or even Balla, but this is an environmentally superb product, that works very, very well.
Pros
Effective body powder that lasts a decent length of time
Extremely environmentally friendly
Only four ingredients, very safe for your skin
Non-talc
Cons
Not quite as effective (in absorbing moisture) as a talc
Only one scented version and one unscented
Only 71g in each bottle, which is much less than competitors
In fact, before coming across Fromonda's body powders, Balla Powder was always my personal go-to choice.
For good reason, the stuff works. ​
Probably the biggest advantage to Balla Powder is that it is (I feel) the longest-lasting product. Sprinkle some on your feet, your pubic region, and anywhere else and you are good to go for the rest of the day. ​
It's also (again in my opinion) the silkiest feeling of all the other body powders. Some other powders can feel "gritty" or even clumpy in your hand. This powder is incredibly fine and silky feeling. Almost "airy".
Balla Body Powder comes in 3 varieties:
Original (which is musky and "manly" like)
Tingle-Formula (which is a bit like citrus)
Fragrance-Free (unscented)
The two biggest downsides to this product are that it's talc-based, and more and more men are preferring non-talc alternatives to use on their skin, and secondly, the price and size of each can.
Only Ora's Amazing Herbal body powders are smaller, but unlike Ora's, it's a tad more expensive.
Overall, however, it's a pretty good body powder.
Pros
Extremely effective, longest lasting body powder
Very masculine, musky scent
Incredibly silky and airy in your hand
Comes in two scented varieties and an unscented version
Cons
Talc based
Only 100g in each bottle
A bit more expensive than other competitors
Chassis Premium Body Powder is a great non-talc alternative to Balla, for a few reasons.
Its unique formula is made up of oatmeal, pumpkin, hops, and aloe​.
One of the cool things about this product is that the aloe and other plant extracts give a soothing feeling after applying the powder. Feels cool and refreshing to the touch.
On the downside, is the choice of scents. You only get one.
Premium Powder scent (very light, smells like a mix of Old Spice + pumpkin)
And yet, we still haven't even gotten to the best feature of this body powder. The applicator!
The application nozzle on Chassis Man Care is by far the best in the business. It's not even close. Most other body powders come with a simple screw-off top or a holed top.
The Chassis Man Care nozzle however is super precise, meaning that you will only get talc where you point the nozzle. This is and should be a big deal because as everyone who has dealt with body powder knows, it's real easy to get talc or body powder all over the floor, leaving a mess.
If it weren't for the fact that there is only one scent, this would probably top the list for me. The applicator nozzle is just that good.
Pros
Unique combination of oatmeal, hops, pumpkin and aloe
Super precise applicator nozzle
Leaves cool, refreshing feeling after being applied
One of the better non-talcs at keeping your dry
Cons
Only one scent
A bit more expensive than other competitors
Contains alcohol (to help with moisture absorption, but also may affect sensitive skin)
Overall, Gold Bond Ultimate Comfort is a solid product and you can't really go wrong. It doesn't do a few things as well as some of the higher listed body powders, but it certainly does a lot of things right.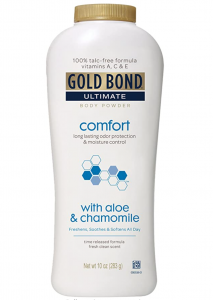 First, you get a ton of good, quality product in each bottle. Each bottle comes jam-packed with 283 grams. That is HUGE. That is nearly 3x as much powder as a bottle of Balla, for roughly the same price. 
However, a lot of product doesn't necessarily mean a lot of good product.
Well, rest assured because Gold Bond knows what they are doing, especially with body powder. Ultimate Comfort is a cornstarch-based non-talc powder that comes infused with vitamins, minerals and plant extracts.
Like Chassis Man Care, my skin felt cool and fresh after applying (although not to the degree of Chassis).
The two biggest downsides to Gold Bond Ultimate Comfort are the scent (only one unisex fragrance) and the strength of that scent. It's not very strong, and feels light. Now, this may be what some of you are looking for, but as a man, I prefer something a little bit stronger.
That said, this is not a bad deal for what you get.
Pros
283 grams in each bottle
Non-talc cornstarch based with infused vitamins, minerals and plant extract
Leaves cool, refreshing feeling after being applied
Unisex scent
Cons
Unisex scent (also a disadvantage)
Scent is very airy and not strong at all
Jack Black Dry Down Powder non-talc cornstarch based powder is probably the best thing I have tried to protect against inner-thigh chafing. In fact, if you are someone who runs a lot, or is outdoors or who has a problem with inner-thigh chafing, this product should be at the top of your list. It's that good. ​
It is free of alcohol (as well as paraben and asbestos and a ton of other nasty, harmful chemicals) and comes infused with lavender and green tea tree oil. ​
The scent is very lavender and green tea based, so if you aren't fond of either, you probably won't like the scent. ​
The applicator tip is also a high point with this powder. With the exception of probably Chassis Man Care, I liked this bottle's applicator tip the best. It's not as precise as Chassis Man Care, but it's pretty close, and a mile better than some of the other nozzles on other products.
The real downsides to this product are the scent and the grainy feeling of the powder in your hand. It doesn't clam up or anything after applied, but it doesn't have the same "silky" smooth feeling as say, Balla, or even Fromonda. ​
Pros
Very good at protecting against chafing
Non-talc cornstarch-based with infused lavender and green tea
170 grams in each bottle is a decent amount for the price
Cons
Only one scent
Feels a bit grainy in your hand
Last, but not least, we are going back to a classic, Pinaud Clubman Talc.
​If you simply want a talc to keep you dry, and you aren't really hung up on details such as the scent or applicator nozzle, why not grab a bottle of the good ole stuff? 
First, there is the scent. If you are looking for something airy and light, Pinaud Clubman is the complete opposite of what you are looking for. The best way to describe the scent of this talc is…. "barbershop". It has a bit of a "medicinal" scent to it, yet combined with a strong musky odor.
And of course, being a talc, it's going to do a better overall job of soaking up moisture than any of the non-talc, cornstarch-based alternatives.
The downsides to Pinaud Clubman are the fact that it's A) a talc and B) quite clunky and unrefined. The nozzle is simply a screw-off, meaning you will probably get powder everywhere on your floor. It's best to sprinkle some in a hand towel and then apply to avoid this.
That being said, it's a solid product and there is a reason why it's been around forever!
Pros
Very strong, musky scent
Very good at keeping your dry
Tons of product in each bottle, 255 grams
Cons
Only a screw-off nozzle
Talc
Scent is very strong (for those who want something airier or lighter)
How The Rankings Were Determined
When it comes to determining the best men's body powders, I used a metric of sorts.
Obviously, my metric is going to be subjective. That is unavoidable. However, for the purposes of this list, I tried to make it as objective as possible.
Thus, positive factors are things such as…​
Non-talc (safer)
Number of scent options
Environmental friendliness
How clean and easily you can dispense the product
How much product comes in each bottle
Any ingredients, minerals and plant extracts that make up the powder (generally, the fewer the better)
How the powder feels in your hand
How the powder feels after being applied (does your skin feel cool and refreshed?)
Overall price
Customer reviews and complaints
Gauging these metrics, one can tell that I am a bit more partial to non-talcs. That is not without reason as I myself have shifted towards using them instead of talc-based powders. That's not to say that talcs are not safe (because I believe they are), I just find that talcs tend to soak up too moisture on my skin, and leave it feeling irritated and red.
For some others, they may feel more partial towards talcs. Like I said, if moisture is your biggest problem, a talc will usually outperform a non-talc.
So there you go, these are the best men's powders available in the market. Overall, you probably won't go wrong with any of these products so go with whatever you prefer.